Brigitte is one of RSPCA's dedicated and skilled Rescue Officers.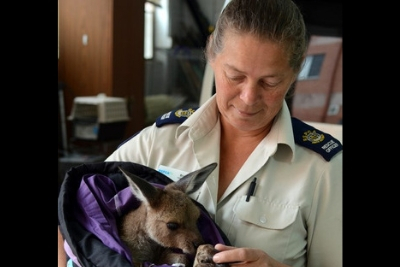 RSPCA Rescue Officers rescue sick, injured and orphaned animals, they are first responders to calls for a range of animals Including companion animals, farm animals, native wildlife and feral/introduced species within the community. Many of the calls our rescue officers receive are for emergency situations where animals require immediate assistance or rescue.
An important element of working as an RSPCA Rescue officer is a passion for animal welfare and good communication skills. Often, our Rescue Officers answer queries as well as educate and inform members of the public about health care and disease prevention for their animals.
RSPCA Rescue Officers work closely with many other organisations including the police, the fire service, State Emergency Services, vet clinics, councils, other rescue organisations, hospital staff, social workers just to name a few.
An RSPCA Rescue Officers job is very rewarding but it can be very challenging, dealing with badly injured and neglected animals is often heartbreaking but being able to improve their quality of life and to relieve their suffering is very rewarding.